Fri 24th Nov 23:27 2006: Windows Vista shutdown ....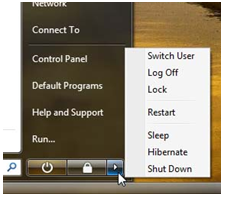 I assume that by now, most of the kind of person who would read this blog, if anybody did read this blog, would have seen something of Vista, and at least the horrendous shutdown menu as exhibited to the right.

Joel Spolsky, an ex Microsoftie and general commentator on software development, posted "Choices = Headaches", an article about just how bad this new "feature" is. Do you really need seven choices just to say "that's it, I'm done"?

Moishe Lettvin, who worked on Windows from 94-98 and on Vista from 2002-2006, thinks not. He was the coder who wrote the menu, which he reckons to be a few hundred lines of code at most. It took him ... wait for it ... one year.

I won't give too many spoilers, just that his article is entitled The Windows Shutdown crapfest, and let you read the article for yourself.

The Windows Shell, Kernel and Mobile teams were all involved (each to a very small degree) in this menu. As you can imagine, it's not going to be the major focus of an OS development, so nobody seems to have really cared about it at all. These three teams were six levels of management apart, so (because of the way the build tree works, presumably limited by Windows' limited scalability), it would be months before all these code contributions would combine into a testable combination.

The cost? 8 people in a weekly meeting, for a year, conservative estimated total of 41 people constantly involved in these discussions. The result? The worst shutdown menu in history. Lettvin mentions that his team's UI designer had a Mac to see how UI should be done, and suggests that the other teams used the same approach.

On the one hand, one could say that Microsoft have a right to be upset about these former employees spilling the beans, but the fact is that the seven-option shutdown menu is now a part of the latest version of their Operating System, for no better reason than their own bloated management hierarchy.

---
Comments for 'Windows Vista shutdown ....'
You could post a comment if you were logged in.
You are logged in as 0
create an account
Steve's urandom blog