Sun 9th Sep 22:53 2007: StumbleUpon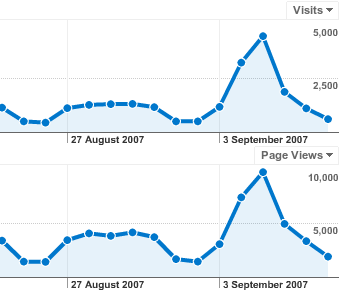 Last week, I added a new page to the website: http://steve-parker.org/logic/, which shows the effects of logic gates, tabularly and interactively, with a little bit of JavaScript. I also sumbitted it to StumbleUpon.

The usual traffic for this website (nearly all for the shell scripting tutorial is about 1300 visitors on a workday, viewing 3 pages each, making about 4000 page views between them. Weekends are quiet around here, with 450 visitors making 1400 page views.

As the graph above shows, StumbleUpon brought a large amount of traffic, more than doubling the usual site load (WebQualityHost were more than up to the task, of course!)


| Date | Notes | Views/Visits |
| --- | --- | --- |
| Monday 3rd (evening) | Page created, submitted to StumbleUpon. | 3079/1184 |
| Tuesday 4th | Traffic starts coming. | 7456/3243 |
| Wednesday 5th | Peak Day. Also gets in the Google index today (the URL has only existed since Monday night). | 9809/4482 |
| Thursday 6th | Steep drop. Google rank for Binay Logic Gate up to 3rd position. | 4972/1881 |
| Friday 7th | A typical Friday. Google adverts showing at the URL become more relevant, as the adbot has had time to crawl the site by now. | 3361/1107 |
Also, in the past six days, 39% of the traffic has come from search engines (combined; nearly all Google), whilst 46% has come from StumbleUpon.
Usually, I get around 75% from search engines, and 5% from StumbleUpon referrals to the shell scripting tutorial (though it does vary, down to about 1%, up to around 15%)
The moral of the story? Make sure your website can cope with huge spikes in traffic. Also, if you want to sell Google adverts to Stumblers, make sure that Google have seen the page well before you submit it to StumbleUpon.
---
Comments for 'StumbleUpon'
You could post a comment if you were logged in.
You are logged in as 0
create an account
Steve's urandom blog