Tue 16th Mar 01:27 2010: End of an Era
Puppy! is apparently Joel Spolsky's final blog post, or at least his last "Why You Have To Buy a $10,000 Italian Espresso Machine for your Programmers" style post, which has been the mode for the self-professed professional bloggers for the past decade or so.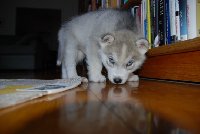 Yes, I admit that I had followed his blog (he does suggest not unsubscribing) and that is why I am posting this here, on ... erm ... on my blog. I don't see the two in quite the same light, though. The thoughts of Spolsky, JWZ, Paul Graham, et al, have made for interesting reading to those of us out of the US VC world. This blog has a rather less specific, or certainly a less business-oriented focus - this is a *nix pro offering his opinions on the latest moves in IT.

Still, I shall miss Joel's updates - even if I have not found every one to be directly relevant to myself, they have always been well written and clearly laid out. It has been very interesting to read the insights of such trailblazers.
---
Comments for 'End of an Era'
You could post a comment if you were logged in.
You are logged in as 0
create an account
Steve's urandom blog