Mon 14th Jul 23:15 2008: Firefox 3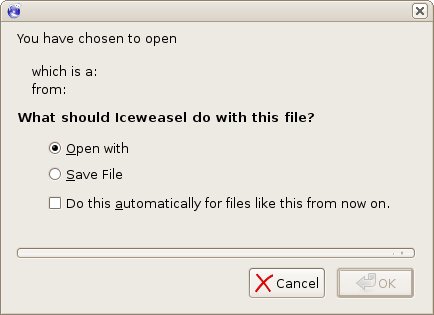 Early days with Firefox 3... there have been lots of negative comments about it, particularly to do with the seemingly unconsidered unsigned-SSL-certificate situation.

Today's experience with it was a tough one (to be fair, and specific, Debian Lenny currently has 3.0~rc2.2; Also, Debian rebrands FireFox as IceWeasel for legal reasons, hence the reference to "IceWeasel" in the screenshot).

To its credit, the "OK" dialog couldn't be activated, but I really wasn't sure what I was being asked to decide!

FWIW, the link I was trying to download was WFM's Alternative Zone, Part 2, from last Sunday 13th July. Retrying the operation worked as expected; I suspect that the webserver was missing some crucial header, not FF3's fault at all, but the dialog is somewhat vague.
---
Comments for 'Firefox 3'
You could post a comment if you were logged in.
You are logged in as 0
create an account
Steve's urandom blog