Thu 20th Sep 00:25 2007: Geek Games
We all love to critique everybody else's choice of PC/Laptop. And when we start a new job, and get given the company's choice, there's always some obvious flaw with it; why on earth did they choose to cut back on CPU speed, just for a bit more RAM? And so on.

So - I'm offering up my laptop choice as a game for the many hundreds of people who read this blog (yes, both of you!)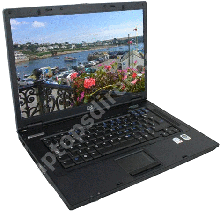 What have I got wrong with this spec? If I buy it and then you tell me "Oh no, the 950 is famously terrible!" or something, then I'll go off and sulk for a full five minutes. Maybe even six.

I'm getting a new job (wahey!) and I get to choose my own laptop (double wahey!) and install whatever I want on it (triple wahey!) and the budget is pretty good too (quadruple wahey!)

Gosh, I'm feeling so smug I could punch myself :-)

And I'm looking at an HP NX7300 RH691EA. It's 2Ghz Core2 Duo with 1Gb RAM (I plan to upgrade to 2Gb for £59), 667MHz FSB, 120Gb 5400RPM HDD, 15.4" 1280x800 screen, Intel 3945 WiFi.

More info, photos and stuff here

There's a review of it here, by someone who also upgraded to 2Gb.

It's only £600, but with 3 years support at £175, a case, an upgrade to 2Gb RAM, and a keyboard, it's nearer £900. The budget will go further, but that just seems to get nicer screens and bigger hard disks.

The upsides:
1) The WiFi should work on Windows, Linux, Solaris Express
2) It's 2GHz, dual core, and with 2Gb, should last me a few years before it's obsolete

The downsides:
1) 100MBps onboard LAN is slow these days; I may need to JumpStart machines.
2) 120Gb is not huge, but laptop HDDs seem expensive (unless I'm looking in the wrong place?)

The Mitigations:
1) It does apparently (despite no mention of it on hp.com) include a PCMICA slot, so gigabit ethernet is possible
2) By the time I fill up the hard disk, 500Gb laptop disks will be available!
3) External hard disks, and my desktop PC, are also available for data retention

I'm totally naive when it comes to buying laptops; I've never bought one before. And I've never bought a PC with Windows pre-installed before, either. Presumably I'll have a sticker underneath, so I can reinstall Windows (XP on this one; I don't feel a need for Vista) alongside Linux/Solaris and remain legitimate.

The budget will stretch beyond this spec if necessary; I reckon that £175 for 3 years onsite support (£5/month) is worth it; I've asked HP to confirm what that would actually do for me, and of course, I could skimp on the HP RAM, HP laptop bag, and so on, if other things are more important. Budget isn't the biggest issue; it's more about value for money, and longevity.
---
Comments for 'Geek Games'
You could post a comment if you were logged in.
You are logged in as 0
create an account
Steve's urandom blog