Mon 26th Oct 01:40 2009: Linus Torvalds at Windows 7 Launch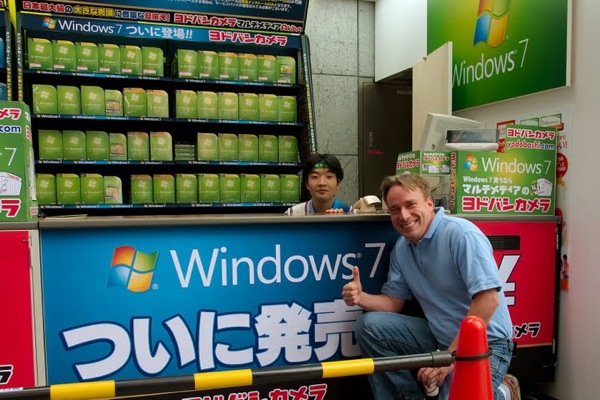 http://picasaweb.google.com/cschlaeger/JapanLinuxSymposium#5395358413061926434 shows Linus Torvalds posing outside the Japan Linux Symposium last Thursday (22nd October 2009), where Microsoft had a stand promoting the new release of Windows 7.

The photographer, Chris Schlaeger, comments:

Microsoft tried to torpedo the success of the Japan Linux Symposium by launching their Windows 7 product that same day. They even had setup a big promotion booth across the street from the conference center.

During a break, we decided to make some fun of Microsoft and dragged Linus over there. When we arrived there, Linus was sold immediately on the product as you can see in the picture. At least that's what the sales guy thought. He obviously had no idea who he was dealing with. But in the end Linus surprisingly did not buy a copy. Wise man!


For some reason, I suspect that it would be unlikely to find Bill Gates or Steve Ballmer posing in a similar manner for a Linux stall... or maybe that's just me being cynical?
---
Comments for 'Linus Torvalds at Windows 7 Launch'
You could post a comment if you were logged in.
You are logged in as 0
create an account
Steve's urandom blog