Thu 11th Sep 00:17 2008: Room 108
It is useful when hotels put signs up on the walls, pointing the way to rooms, to the lift, to reception, and so on. Signs on the walls are a simple and efficient way to help visitors find their way around what can be quite a large building.

So I was pleased, coming out of the lift, to see a sign in front of me: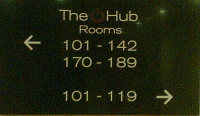 I was in room 108... do I go left or right?

---
Comments for 'Room 108'
You could post a comment if you were logged in.
You are logged in as 0
create an account
Steve's urandom blog