3rd September 2005: Dad's 80th Birthday
Happy 80th Birthday Dad!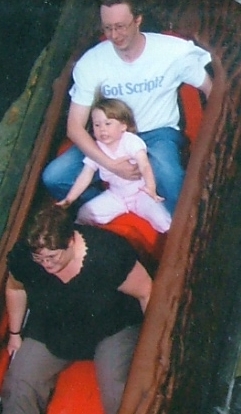 To celebrate his 80th birthday, my Dad took us all to Camelot theme park - as a venue to suit everyone from a 1-yr-old to an 80-yr-old. (They share the same birthday, of 6th September, albeit 1925 and 2004 for Dad and Emily respectively).
It was a great day out for everybody, with my Mum, all four of Dad's children, their partners and children (his grandchildren) and their partners, making a party of eighteen. It was an excellent place to entertain all the family (no, they're not paying me to say this!) as it turned out - the Excalibur 2 ride (I didn't ask what went wrong with version 1) is the first ride I've ever been on where I've genuinely felt that the only limiter between life and death was how tightly I held on.
There was lots of stuff for the young children - tame rollercoasters, a small farm, soft-play areas, carousels, etc.
The older people were quite happy with the dragon rollercoaster which traverses most of the park, Dad apparently enjoyed a go on the Dodgem cars.
I don't think that Bethany was too impressed with the Log Flume, though (see photo). The poor girl was petrified; it probably didn't help that she was stuck behind Mummy so couldn't really see what was happening, and then, of course, she got drenched without warning. Terrible parents, aren't we?!
Thanks Dad for a great celebration, and many happy returns.
10th September 2005: New Polo!
Well, not a new Polo, but a new-to-me Polo. I find modern cars so boring - all you can do is drive them, then pay the garage megabucks to service them. The fun with an older car is the amount of things you can tweak with it - no need to worry about the warranty, very few custom engine-management software features to worry about, and a Haynes manual based on a strip-down and rebuild to work from. In fact, this is the first Polo to have EMS (and, FWIW, the first small car to sport a Catalytic Converter).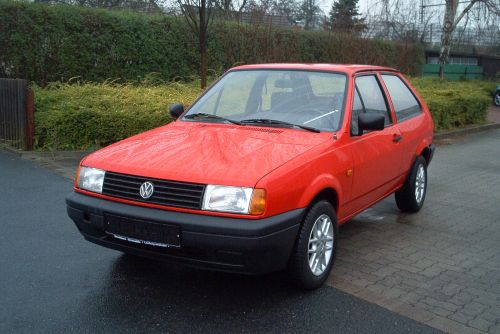 So I've just bought a 1993 VW Polo for less than £500, and a Haynes manual for £15.99 from Halfords. It's not as fast (well, I've not played with it yet; it's 0.5l less, though it is a heck of a lot lighter) as my modern Mondeo, but that's not what I want from it... I just want something to get me from home to my new work (2 miles away) and keep me dry (that's the difference between a car and a pushbike; it's possible that a pushbike might well be quicker over those two miles).
I've bought the car and got it home; it seems to be a really good runner. It's missing one headlight bulb, the cigar lighter and rear-window demister don't seem to work, along with the internal driver's side wingmirror adjuster, but that's all trivia, with a Haynes manual on your side. By torchlight, it looks like a couple of fuses need replacing before it'll do everything it should do. That's where the Haynes manual comes in - no need to take it to VW, just identify the fuse and replace it. Good old German engineering helps, too, of course.
On to important stuff: the engine sounds good and feels nippy; the major expense items on buying an old car (road tax, tyres, MOT) are all good. The brakes, as in any Polo, are soggy, though it appears that the brakes are quite easily upgraded to Golf MkI brakes.
I'm no mechanic, but with an old MkII Polo I used to own (my first car), I found the Haynes manual essential. I once lent it to an MOT centre to help them get the car through its test! I'm really looking forward to playing with my new car - the family car cost 20 times the price, but the Polo is far more fun already, and I've not even started to play with it.
Although I've not had much daylight time to play with it yet, so far as I can tell, I only need a new headlight bulb and I'd be confident to put it through an MOT test (not that it has to be tested for a good few months yet).
I'll post photos whenever I get daylight time to take any. It's a standard 3-door 1993 Polo Coupe, though, a bit like the image above (though without the alloys, and with black go-faster stripes, and a very dodgy yellow radio aerial).
Random blog - September 2005